Weldy Olson: Yooper, Spartan, Olympic Gold Medalist
Recently, we were fortunate to catch up with Weldy Olson, a Marquette native who was a member of the USA gold medal winning team at the 1960 Winter Olympics. Before we share a little more about Weldy (gotta love that nickname!), let's take a brief look at some hockey history in the Upper Peninsula.
Hockey is a long standing tradition in the Upper Peninsula. A tradition rich in history, and the birthplace of professional hockey in the United States, that started in 1903 with the Portage Lakers. Just weeks ago Calumet celebrated the 100th anniversary of the Calumet Colosseum, with a rivalry that dates back before indoor hockey even existed.
A number of native Yoopers have gone on to play hockey professionally, most notably, Taffy Abel of Sault Ste. Marie. Taffy Abel went on to play over 300 games in the NHL, won a Stanley Cup with the New York Rangers in 1928 and served as the United States flagbearer in the 1924 Winter Olympics, where he scored 15 goals in the hockey tournament. The USA team went on to win the silver medal that year. In more recent years the NHL has seen the likes of Jeff Finger of Houghton and most recently Justin Florek of Marquette. Florek, 23, made his NHL debut in January with the Boston Bruins and scored his first NHL goal on January 9th. Coincidentally, that goal was scored against Jonathan Quick, who has been the leading goaltender for the USA in the 2014 Olympics.
Before the USA competes in the 2014 gold medal game in Sochi, it must face Canada. The gold medal has eluded the United States since the historic 1980 "Miracle on Ice". This will be the 9th Winter Olympics since that historic win in Lake Placid. Since 1920 the USA has collected one bronze, eight silvers, and two gold medals in men's hockey.
The first gold medal was in 1960 in Squaw Valley, California. Though the 1960 USA hockey team didn't see the same amount of press and commercial attention that the 1980 team received, the victory was no less impressive. Really, it was a miracle in itself and some dubbed it the "Forgotten Miracle".
This brings us back to Weldon Howard "Weldy" Olson.
It didn't take more than a few minutes on the phone with Weldy to hear in his voice that he still has a great passion and love for the game of hockey. At the time he was watching the women's USA vs. CAN gold medal game, which was a heartbreaking loss for the United States. Weldy communicated a genuine kindness and warmth, and I was quick to recognize that he still shows great enthusiasm in sharing his hockey experience, which runs much deeper than the 1960 gold medal team.
Weldon Howard Olson was born in Marquette, Michigan on November 12, 1932. Before his family moved to Marquette they resided in Hancock, and they were no small family. Weldy was the youngest of nine hockey playing brothers. The brothers are Allan, Edward, Gordon, Marcus, Paul, Roy, Theodore, and Wesley. As a group, they are members of twelve different halls of fame. Now that's a hockey family!
Four of Weldy's older brothers played hockey for Michigan Tech and Weldy planned to do just the same. At the time Weldy was slated to skate for Amo Bessone at MTU. However, Bessone took a new coaching job at Michigan State University, where he would go on to coach over 800 games for the Spartans. Weldy followed, and went on to play four years of hockey at Michigan State from 1951-1955. From there he would go on to serve in the Air Force.
In 1956, Weldy made the USA Olympic team. At the time it was a much different experience. The team had no NHL players. There we no household names. And there were certainly no million dollar contracts.
Nobody was a professional hockey player, that wasn't our living. We had carpenters, salesmen, advertising men. I was in the Air Force and Paavola was in the Army. One of our guys was a driver on a firetruck. At the time there was no money involved. We were given seven dollars a week for living.
Unlike the seeding tournament format we're familiar with today, the Olympics at the time featured a round robin tournament. The USA would go on to win silver after being edged out with one loss in the final round, a 4-0 loss to the Soviet Union.
Four years later the Winter Olympics were back, this time hosted on home territory in Squaw Valley, California. The game was changing fast. Technology had improved drastically by 1960. Computerized scoring and the Zamboni were introduced in Squaw Valley, and most notably the games were moved to an indoor facility.
We were receiving a lot of criticism because they didn't think we had a very good team. But we had a lot more experience on that team than people realize. We had about 30 years of player experience on that team. (source)
According to Weldy they were expected to finish fifth and didn't get recognition until they beat Canada. In the final round the USA would go a perfect 5-0 to win the gold medal. Weldy scored one goal in the series. This marked the first miracle on ice.
And it's important to note that Weldy wasn't the only Yooper on the team. In fact the term Yooper hadn't even been coined in 1960. One of Weldy's teammates was Hancock native Rod Paavola (pictured above). Paavola, a defenseman, was just 20 years of age when he won the gold medal. He also played on the 1959 national team at the World Championships in Prague. The annual "Rod Paavola Memorial Tournament" is played between the Calumet Wolverines and Portage Lake Pioneers. He is a member of the Upper Peninsula Sports Hall of Fame and the United States Hockey Hall of Fame.
In 1966 all nine of the Olson brothers came together in Marquette to play a game for charity. One team was made entirely of the Olson brothers, with the help of a goalie they recruited. This was the only time all nine brothers played together.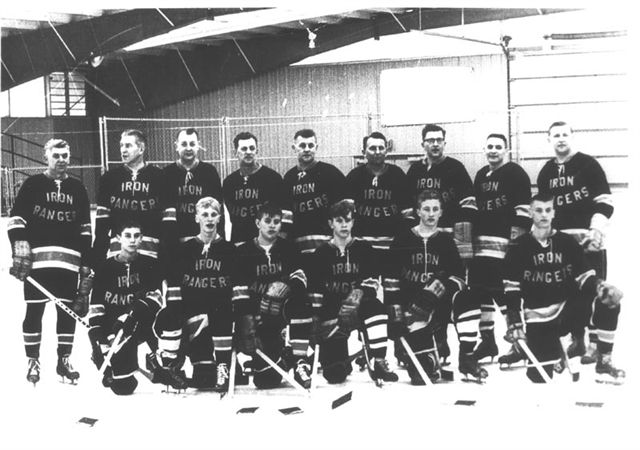 Weldy now resides in Findlay, OH with his wife, who was his next door neighbor in Marquette. They make it back to Marquette a few times a year and also makes it to East Lansing for the occasional Spartan hockey event. He says that he still keeps in touch with his USA teammates and they occasionally see each other when passing through town. Weldy Olson has been inducted into the Michigan Amateur Sports Hall of Fame, the Upper Peninsula Sports Hall of Fame, the Michigan State University Athletic Hall of Fame, and the Hancock County Ohio Sports Hall of Fame in Findlay, Ohio.
Sources:
Copper Country Hockey History
Sports Reference
Blue Jackets TV
Wikipedia
United States of Hockey
Michigan State Athletics