Vintage-Like Portage Canal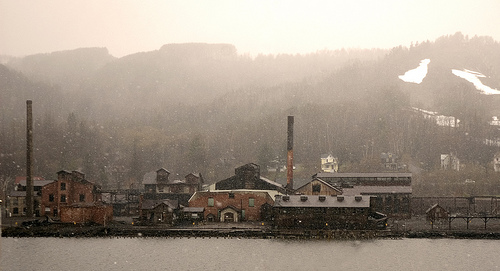 The Portage Canal is somewhere I've driven past hundreds of times in my life, but never have I seen it like this. This snow falling in the photo gives it a second effect of it being a grainy photo, adding that to the tone gives it a fantastic vintage look as if this photo was taken in the early 1900s. However, it was snapped just two weeks prior on May 3rd, 2008.
"Although beautiful, I couldn't believe it was snowing at the beginning of May."
A Brief History of the Portage Canal
The only road across the Portage Canal is the Portage Lift Bridge

Also known as the Keweenaw Waterway, Lily Pond, Portage River, and Portage Lake

Connects Lake Superior at both North and South entries (see map below)

The primary tributary to Portage Lake is the Sturgeon River

Originally a small river, it was dredged in the 1960s for mining industry and allowing freighters in

The area north of the Portage Canal is known as Copper Island


Photo courtesy of DailyInvention on Flickr.