Nick Baumgartner competes in the Olympic Snowboard Cross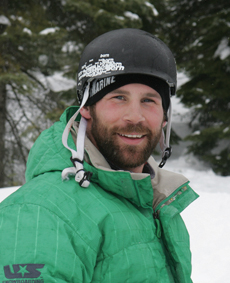 On January 26 it was announced that Yooper Nick Baumgartner made the Olympic team for the snowboard cross. Baumgartner hails from Iron River and is making his first Olympic appearance at age 28.

Tune in today (Feb 15) to watch the men's snowboard cross competition. Check out the complete schedule at Vancouver2010.com.

Nick's biggest accomplishment to date is winning a bronze medal at the FIS Snowboarding World Championships 2009. He has also competed in the Winter X Games the last few years.

Before taking on snowboarding full-time Nick was a state champion wrestler in high school and went on to play football at NMU.

If you know of any other Yoopers who have compete in the Olympics please send me a message or leave a comment.

**UPDATE**

After a crash Nick's gold medal hopes came to a halt during the 1⁄8 finals. He finished 20th overall with a starting field of 34 racers.
"I came here for the gold," Baumgartner said between qualifying runs. "I am definitely taking the experience in. But the gold is what I worked so hard for. I set a goal four years ago." — From the examiner.com
Medals
Gold – Seth Wescott – USA
Silver – Mike Robertson – Cananda
Bronze – Tony Ramoin – France
Congrats Nick! Great job representing the country, but even more so thanks for representing the Upper Peninsula. We hope to see you back in 4 years with a world championship between now and then. Keep up the hard work.
Good to see Nick get some press in Sports Illustrated as well.