History of the Miner's Cup, the Annual MTU/NMU Football Game
Since 2002 Northern Michigan University and Michigan Tech University have battled for the Miner's Cup Trophy, awarded to the annual winner of the historic Upper Peninsula football rivalry.
Michigan Tech won the inaugural Miner's Cup in 2002 and currently holds an 9-3 record over Northern Michigan. The traveling trophy has stayed at MTU since 2009 when NMU last won it, the longest winning streak for the annual trophy.
Though the Miner's Cup has only been awarded since 2002, the rivalry dates back 1920. The two teams have met a total of 87 times since. As of Michigan Tech's 2013 victory, the series is split even, 41-41-5 record.
It's a classy trophy! The helmet on top is an authentic miner's helmet that was found at a local antique store in Houghton.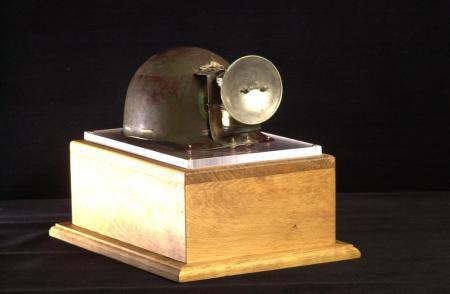 Photo source: Mining Journal
Year By Year Results
Year
Northern Michigan
Michigan Tech
Location
2002
Northern Michigan
13
**Michigan Tech**
**34**
Houghton
2003
**Northern Michigan**
**35**
Michigan Tech
24
Marquette
2004
Northern Michigan
6
**Michigan Tech**
**45**
Houghton
2005
Northern Michigan
21
**Michigan Tech**
**42**
Marquette
2006
Northern Michigan
14
**Michigan Tech**
**42**
Houghton
2007
**Northern Michigan**
**34**
Michigan Tech
27
Marquette
2008
Northern Michigan
21
**Michigan Tech**
**47**
Marquette
2009
**Northern Michigan**
**48**
Michigan Tech
16
Houghton
2010
Northern Michigan
0
**Michigan Tech**
**12**
Houghton
2011
Northern Michigan
18
**Michigan Tech**
**21**
Marquette
2012
Northern Michigan
17
**Michigan Tech**
**41**
Marquette
2013
Northern Michigan
7
**Michigan Tech**
**31**
Houghton
**Current series:**
Michigan Tech leads 9-3