LSSU Announces their 2009 List of Banished Words
Rabe started one of the greatest public relations campaigns in history. And it is right here in the Upper Peninsula, at Lake Superior State University.** During 1971 many people still believed that Lake Superior State University (LSSU) was a branch of Michigan Tech University (and is was, just a year earlier). In the world of advertising and public relations this is a major identity crisis. One of Rabe's first answers to this problem was the [Unicorn Hunters](http://www.lssu.edu/banished/uh_about.php "Unicorn Hunters"). Along with a small group of other LSSU faculty they set out to achieve various things to garner up some publicity for the university such as, yes, snowman burning. And of course, to this day you can still buy a Unicorn Hunter's License, and it's [available online](http://www.lssu.edu/banished/uh_license.php "Unicorn Hunter's License"). The greatest stunt from Bill Rabe and the Unicorn Hunters has become the annual **List of Words Banished from the Queen's English for Mis-Use, Over-Use and General Uselessness**. Since [New Year's Day in 1976](http://www.lssu.edu/banished/history.php "Queen's English for Mis-Use, Over-Use and General Uselessness") the annual list has been published.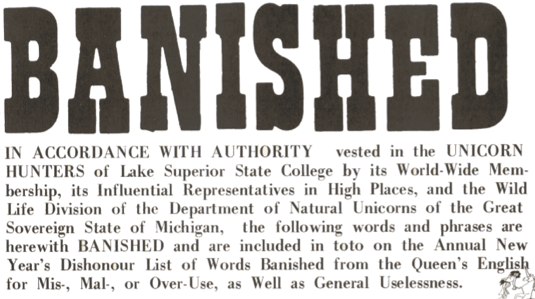 Typically, the list has grown out of words that have been over-used and turned into cliches during the previous year. Often they are pulled from hot news topics from the year, meaning that this years words mostly relate to the election, bailout, and environment. The words, all submitted by other people, typically include a few excerpts from the submissions to support the case of why it should be banned.
"After Rabe retired in 1987, the University copyrighted the concept and continued the tradition. The popularity of the effort shows no signs of dwindling. Hundreds of nominations are received each year, and LSSU Public Relations Office staff conduct dozens of news interviews, largely with radio stations throughout North America and sometimes overseas on all major networks, including Cable News Network, Associated Press, Canadian Broadcasting Corporation and more."

–LSSU
With the popularity of social networking, blogging, and power of the internet news service, LSSU has probably seen more and more press in recent years. Their have already been nearly 400 related news articles in Google for the year and featured on Yahoo's site. So here it is, the list you've been waiting for…
Lake Superior State University 2009 List of Banished Words
GREEN: "If I see one more corporation declare itself 'green,' I'm going to start burning tires in my backyard." Ed Hardiman, Bristow, Va.

CARBON FOOTPRINT or CARBON OFFSETTING: Mike of Chicago says that when he hears the phrase 'carbon footprint,' "I envision microscopic impressions on the surface of the earth where an atom of carbon forgot to wear its shoes."

MAVERICK: "I'm a maverick, he's a maverick, wouldn't you like to be a maverick, too?" Michael Burke, Silver Spring, Md.

FIRST DUDE: "Skateboard English is not an appropriate way to refer to the spouse of a high-ranking public official." Paul Ruschmann, Canton, Mich.

BAILOUT: "Now it seems as though every sector of the economy wants a bailout. Unfortunately, ordinary workers can't qualify." Tony, McLeansville, NC.

WALL STREET/MAIN STREET: "When this little dyad first came into use at the start of the financial crisis, I thought it was a clever use of parallelism. But it's simply over-used. No 'serious' discussion of the crisis can take place without some political figure lamenting the fact that the trouble on Wall Street is affecting 'folks' on Main Street." Charles Harrison, Aiken, SC.

: Supposed to resemble a heart, or stand for the word 'love.' Used when sending those important text messages to loved ones. "Just say the word instead of making me turn my head sideways and wondering what 'less than three' means." Andrea Estrada, Chicago.

ICON or ICONIC: "Just because a writer recognizes something does not make it an icon (a visual symbol or representation which inspires worship or veneration) or iconic. It just means that the writer has seen it before." Brian Murphy, Fairfield, Conn.

GAME CHANGER : "It's game OVER for this cliché, which gets overused in the news media, political arenas and in business." Cynthia, Mt. Pleasant, Mich.

STAYCATION: "Occurrences of this word are going up with gas prices.'Vacation' does not mean 'travel,' nor does travel always involve vacation. Let's send this word on a slow boat to nowhere." Dan Muldoon, Omaha, Neb.

DESPERATE SEARCH: "Every time the news can't find something intelligent to report, they start on a 'desperate search' for someone, somewhere." Rick A. Hyatt, Saratoga, Wyo.

NOT SO MUCH: "Do I like concise writing? Yes. Do I like verbose clichés? Not so much." David W. Downing, St. Paul, Minn. "A favorite of snarky critics and bloggers." Jeff Baenen, Minneapolis, Minn.

WINNER OF FIVE NOMINATIONS: "It hasn't won an Academy Award yet. It has only been NOMINATED!" John Bohenek, Abilene, Tex.

IT'S THAT TIME OF YEAR AGAIN: Nominated by Kathleen Brosemer of Sault Ste. Marie, Ont., for "general overuse and meaninglessness. When is it not 'that time of year again?' From Valentine's sales to year-end charity letters, invitations to summer picnics and Christmas parties, it's 'that time' of year again. Just get to the point of the solicitation, invitation, and newsletter and cut out six useless and annoying words."


Some of my favorites…
You can log on to LSSUs website for a year-by-year list of all the cliches and misused words you can handle. And you can also view their list of every single word they have banished.
i-ANYTHING: 'e-Anything' made the list in 2000. Geoff Steinhart of Sault Ste. Marie, Michigan, says tech companies everywhere have picked this apple to the core. "Turn on…tune in…and drop out."

BLACK FRIDAY: "The day after Thanksgiving that retailers use to keep themselves out of the 'red' for the year. (And then followed by "Cyber-Monday.") This is counter to the start of the Great Depression's use of the term 'Black Tuesday,' which signaled the crash of the stock market that sent the economy into a tailspin. – Carl Marschner, Melvindale, Michigan.

RANDOM: "Outrageous mis- and overuse, mostly by teenagers, i.e. 'This random guy, singing this random song…It was so random.' Grrrrr." – Leigh, Duncan, Galway, Ireland.

FLIP FLOP/FLIP FLOPPER/FLIP FLOPPING: They belong at the beach, not in a political dialogue. "Republicans used it; Democrats used it back. Flip-flop back and forth it goes." – Jeff Lewis, Ada, Mich.

BODY WASH: "Also known as 'soap.'" — Ray Hill, Jackson, Mich.

UPSCALE: Examples of its overuse: "upscale homes," "upscale villages," "upscale, rural neighborhoods," even "upscale soft drinks" – Nancy Fletcher, Oscoda, Mich.


I am already looking forward to the 2010 list, hopefully I won't be contributing to the future list of banished words. And if I have used any of the previously banished words in earlier posts, please forgive me.