| | | |
| --- | --- | --- |
| #### Miles | #### Drive Time | #### Total Time |
| 648.4 ----- | 12.53 hrs --------- | 53 hrs ------ |
One requirement for being an Ambassador of the Upper Peninsula is whirlwind road trips across the U.P. Road tripping is [nothing new](http://hometowninvasion.com "50-state tour") to me, and a proper road trip includes a number of my road tripping guidelines. Some of those guidelines include, but are not limited to:
Listening to "Total Eclipse of the Heart" with the windows down and the volume up
Spontaneity, such as not knowing where you'll be sleeping in the coming night and taking impractical routes
Eating at local diners.
Avoiding hotels and staying with people you have never met before
The trip started in Marquette at 1pm Thursday afternoon and concluded on Saturday evening at about 6pm. In the span of those 53 hours, nearly a quarter of it was spent driving, covering 648.4 miles. And yes, I certainly jammed out to "Total Eclipse of the Heart" more than one time.
Thursday
Leaving Marquette at 1pm, the goal was to get to Cedarville by 5pm. We receieved a fresh batch of Upper Peninsula tees and tanks and had to make a delivery of shirts to Cedarville Marine. They have carried Yooper Steez apparel for a couple of years now and they have a selection of colors that are exclusively available at their retail shop. Stop in and say hi when you're in the Eastern Upper Peninsula, they are always awesomely nice. After a sunny drive across the Upper Peninsula there was a tiny rain cloud that seemed to be hovering only above Cedarville.
And this is where things got especially interesting, as I didn't have a place to stay Thursday night and had to be to Mackinac Island in the morning (more to come on that). Earlier in the day I had sent a message to a long-time Yooper Steez customer and supporter in Sault Ste. Marie. To my delight she offered a spare bedroom and I drove an hour north to The Soo despite having to be back to Mackinac Island in the morning.
Years ago, I took a year-long 50-state road trip across America with the intention of staying with host families in every state I had never met. It turned out to be over 100 households of strangers and offered much of the inspiration for Yooper Steez. In part of being an Ambassador of the Upper Peninsula and the enjoyment of sharing things all about Michigan, the Great Lakes and Yooper life. The second part was that I collected a t-shirt from nearly all 50-states. I drafted up Yooper Steez in late 2007 after finishing the 29,000 mile road trip.
I could have easily stayed in a motel, but the opportunity loss of a motel room is significant. After first stopping to see if there were any boats passing through the locks (sadly, there weren't), I met up with my hosts Katey and Eric and found myself playing Yahtzee with an enthusiastic group of twelve people I had never before met, or so I thought. Turns out one of them was a distant relative I had met years ago, my uncle's cousin! We made several other connections to mutual friends in Sault Ste. Marie as well. These are the things that don't happen when staying in a motel. Sadly, I didn't roll a single Yahtzee, but I think I made a few new friends.
Everyone was soo nice, and I couldn't resist another stop by the Tower of History.
Friday, 4th of July
I was a couple cups of coffee ahead of my normal schedule on Friday and on my way to Mackinac Island. I had a ferry to catch and made it to the Shepler's Ferry dock before the 10am departure. On the ferry trip, there is an automated recording that gives a few warning messages and some information about Mackinac Island. I swear by it that the voice is one of the most soothing voices I've ever heard, I just wanted to keep listening, no matter what he said. Turns out it was the voice of Edward Herrmann who grew up in Grosse Pointe, Michigan. Edward, we owe you a t-shirt!
@BugsySailor That is the great actor @EdwardHerrmann. We especially love the way he says "buffet". He is a class act all the way!

— Shepler's Ferry (@Sheplersferry) July 4, 2014
Having crossed countless times and going to the [top of the Mackinac Bridge](https://upsupply.co/post/journey-to-the-top-of-the-mackinac-bridge "Tour the Mackinac Bridge"), seeing it from below is a completely different experience. From below, the bridge starts to feel more delicate. You can see that the layer of blacktop above is just a thin layer and the supporting beams seem much more nimble.
hoodies, perfect for the 4th of July!
STEEZ DROP! Finders keepers Mackinac Island edition. Look under the benches. pic.twitter.com/w0AcReAL7w — Yooper Steez (@UpperPeninsula) July 4, 2014
Our happy winners! They happened to be in the right place at the right time and were visiting from metro Detroit.
From the island I had to high-tail it to Munising to catch the fireworks with some friends visiting from Illinois. It was another beautiful day for an Upper Peninsula drive, and "Total Eclipse of the Heart" probably played a few more times while my arms got even more sunburned while driving.
Bayshore Park was packed with. And you have to love these late Upper Peninsula nights when there is still hints of daylight at 10pm. My friends from Illinois couldn't believe it. Ontonagon boasts the latest sunset times in the Eastern Time Zone, being far north and further west than much of the Central Time Zone, we get more than an extra hour of daylight. And then there were fireworks!
We headed out to 16 Mile Lake where we laid out on the dock and counted just a few shooting stars in the clear night sky. But it was the perfect end to an incredible July 4th.
Saturday
We headed out at 10am to visit Kitch-iti-kipi, "The Big Spring", which is the largest natural spring in Michigan. To my amazement, the 45-foot deep spring stays a consistent 45 degrees year-round. The name come from Native Americans who originally named it "Mirror of Heaven." The fun part is taking the hand-cranked raft out to the middle and looking down to the bottom through crystal-clear water.
We stopped for lunch at Jack's in Rapid River, a classic. And also visited the showroom of Ritch Branstrom who placed 5th in Art Prize 2011 with his 3,000 pound dog named "Rusty".
My friends and I parted ways and I thought it would be best to backtrack another 45 minutes back to Fayette, which is always worthwhile. Turns out there are some great skipping stones alone the shore. But apparently I had already thrown out my arm in the stone skipping tournament. It was a perfect time to take a nap in the grass before making the drive back to Marquette.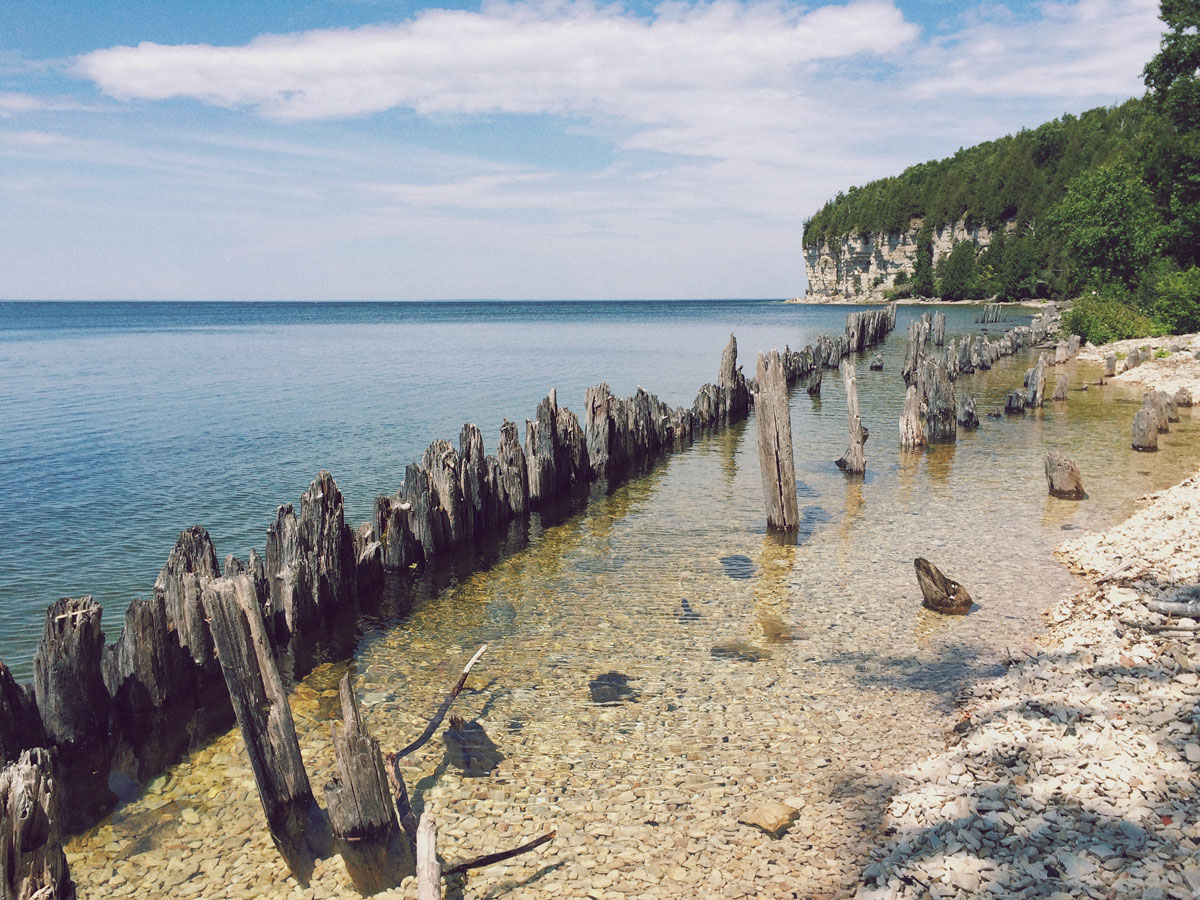 So, who wants to go road tripping? We're always down.
See you out there.