Earliest Easter in Century Could Mean Snow!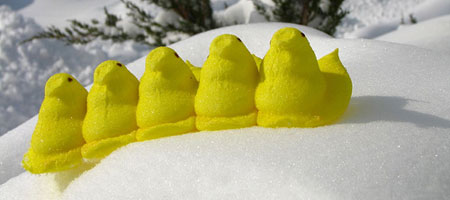 St. Patrick's Day was only a couple days ago, so if easter seems a little early this year, you're right. March 23rd, 2008 is the earliest Easter on the Gregorian calendar since 1913, and there won't be another Easter this early in our entire lives. The next time Easter will be this early isn't until the year 2160.
The earliest possible date for Easter is March 22nd, and if 2008 wasn't a leap year it would have been one of those incredibly rare years. The last two Easters on March 22nd were the during the years 1761 and 1818 and won't happen again until the year 2285.
Early Easter = Chance of Snow!
Easter means spring. It's time for snow to melt, trees to blossom, birds to sing, sun to shine, turn off the heater and put on a t-shirt. But when Easter is as early as March 23rd there is no doubt that a huge snowstorm could be on the way and all the little eggs that were hidden for the Easter egg hunt could be buried under a foot of snow. Easter snowstorms are of no surprise in the Upper Peninsula.
So when is the latest possible Easter?
Easter can come as late as April 25th, making the range of possible Easter dates spanning over an entire month. This does happen more frequently than the earliest date on the Gregorian calendar. The last April 25th Easter was in 1943 and the next one is just a short 30 years away in 2038.
Why does Easter fluctuate?
For both Gregorian or Julian calendars, Easter is based on the vernal equinox. As stated by Council of Nicaea in 325CE, Easter is to be held on the first Sunday after the first full moon occurring on or after the vernal equinox. Easter is delayed one week if the full moon is on Sunday. (source)
Here's a great site to see the future dates of Easter.
Five U.P. ski hills will host an Easter egg hunt this weekend
March 22nd
Mont Ripley
Blackjack
Indianhead
March 23rd
Marquette Mountain
Big Powderhorn
Thank you LexnGer for the perfect photo!
Easter Day snowstorms: Yay or Nay? Let us know.