"Along the Bowstring of Lake Superior" by Julian Ralph
Here is something I struggle with, how do you explain Lake Superior to someone who has never seen her? How do you translate the magnitude and beauty into words? In fact, I was once asked, "Can you see the other side of Lake Superior?"
I am no wordsmith, but thankfully, many who have come before me are. Recently, I was introduced to the book "Along the Bowstring, Or South Shore of Lake Superior" by Julian Ralph, first published in 1890. Throughout Bowstring are eloquent descriptions of Lake Superior that help me answer the question above.
"But the seas of the world are salty, this lake is like a colossal diamond–clear, pure, sparkling, lying like a heaven-lighted gem in a bowl of rich greenery fringed with a lace-work of chromatic rocks that take on the most weird and enchanting shapes."
The writing covers Ralph's travels across the southern shore of Lake Superior from Saulte Ste. Marie to Duluth, as he shares his wonderment of the view, reports on industry and people, and shares his discoveries.
Julian Ralph (no relation to the town of Ralph), was born in 1853 in New York City and was a notable journalist for The Sun, a New York City magazine that was published until 1950. Many of his works can be read at Harper's Magazine and Google Books where you can find the complete digitized publication of Along the Bowstring.
Though I was introduced to the book via some of the quotes, it was the illustrations that made me fall in love. Illustrations are depicted on nearly every page, showing recognizable views of the Portage Canal, Lake Michigamme, Presque Isle, Pictured Rocks, The Soo Locks, and many more. We pulled some of our favorite illustrations and quotes below.
"How many who have not seen Lake Superior have ever allowed their fancy to estimate what it must be–that great bowl which we, magnificent belittlers of the grandest of Nature's achievements, call a lake, yet which were it in Europe, would have become one of the seas of the world, paraded by fleets of war and dividing empires?"
"It is the largest body of fresh water in the world, as we have all heard time and again; but those are mere words, and convey no idea that any mind can grasp. How long and wide is it how does it compare with salt-water seas of which we know and how with bodies of land of which we have some knowledge? By such an analysis we shall learn that Lake Superior is indeed one of the wonders of Nature and one of the proudest of our possessions–or semi-possessions to speak more correctly. The great lake is 360 miles long and 140 miles wide at its largest crossing. It possesses a superficial area of 32,000 square miles, or four times as many square miles as the State of Massachusetts. Roughly speaking, if we could turn the State of Indiana into water it would make another lake the size of Superior. Michigan itself is not twice as large, nor is Wisconsin which is a trifle smaller than the State of Michigan Lake Superior has 1500 miles of coast, or within 500 miles of the coast extent of the great Black Sea."
"In parts of the coast of the Atlantic has Nature done such bold, work as she scatters lavishly all Lake Superior."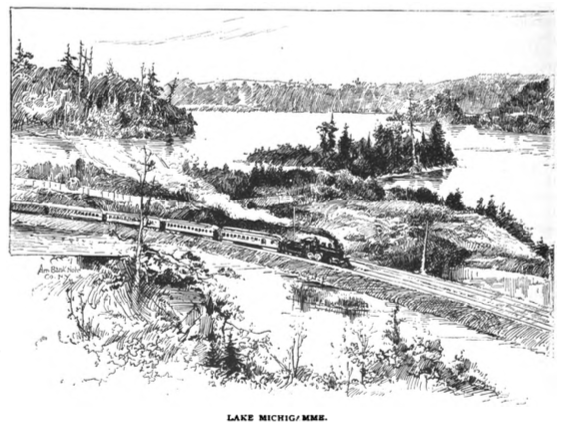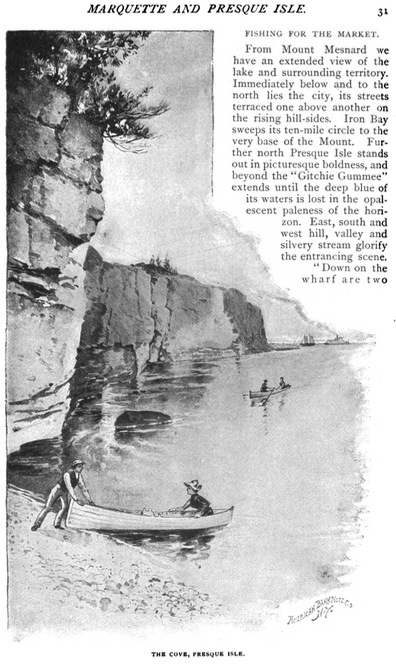 Back to the question at hand, there is one other quote that comes to mind.
"Those who have never seen Superior get an inadequate idea by hearing it spoken of as a lake. Superior is a sea." — George Grant, 1872