906 Visits the Pacific Coast
From the great Labor Day adventure and being a part of the MQT Plaidurday this year, I learned all about Yooper Steez and its beginnings. As I was finishing school at Northern Michigan University this past December, I became inspired by the Hometown Invasion Tour that kickstarted Yooper Steez. Approaching graduation gave me anxiety about my future and even though I secured an awesome job at Elegant Seagulls, I found myself itching to embark on an adventure like the Hometown Invasion Tour to see more of this wonderful earth. So I made the leap to go on a trip with my best friend and recent NMU grad Jessie Johnson. We bought a one-way plane ticket to Seattle and a one-way ticket from LA and went for it without many plans for the in between.
Over the last few weeks Jessie and I explored the West Coast, hitting 6 cities in 14 days, catching up with friends, seeing as many sights as possible, meeting some great people, and hiking in all types of climates. We thought it would be fun to spread some Upper Peninsula love on our journey with a few well-placed 906 stickers. We were happily surprised by the random acts of kindness and U.P. connections along the way.
The trip began with a drive across the western Upper Peninsula watching a glorious sunset just east of Ironwood on the way to Minneapolis. Jessie and I had a little Upper Peninsula reunion for New Years Eve with our NMU friends Taylor and Chris before our plane departed shortly after the new year.
Seattle
We arrived in Seattle and were hosted by our awesome friends Kelly and Adam who recently moved to the west coast from Marquette. They proudly displayed the 906 sticker we gave them on the good ol' Subaru. We hiked in Stevens Pass, up to Bridal Veil Falls, and explored the city – stickering at Pikes Place, the Space Needle, and Discovery Park.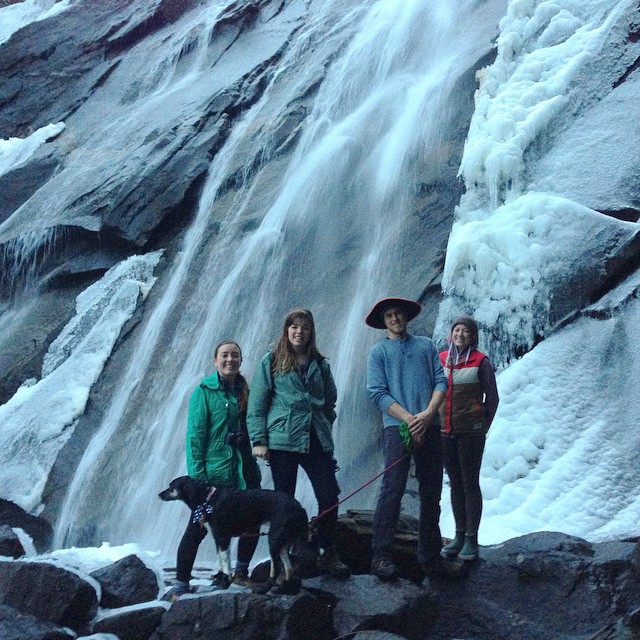 Hours after getting off of the plane we were at Add-a-Ball pinball bar and saw this guy wearing an Upper Peninsula Hiawathaland shirt. He was confused by our excitement and persistent request for a photo (note his annoyed expression) and had never heard of the Upper Peninsula – just picked up the shirt from a thrift store. We pointed out where we lived on his shirt and he insisted that we were joking.
Portland
The crazy coincidences continued in Portland where we hopped off the train and found ourselves in Pints Coffeehouse Brewery for happy hour. Our server, Dana, recognized Marquette from our ID's and explained how she went to school in Marquette and she studied the same program as Jessie and I – graphic design. We talked about our professors and Marquette she gave great suggestions about places to go in Portland. The first person we meet in Portland is a fellow NMU designer?! Quite the small world moment.
Our hosts Abby and Greg – Jessie's friends from Minneapolis – took us hiking out by Lincoln City, OR with their dog Max. We went to drift creek falls which was an amazing hike leading to a suspension bridge overlooking the falls. We then headed to the beach to play fetch with Max, watch the seals swim in the Pacific Ocean, and eat a delicious seafood dinner in celebration of Abby's birthday. We also made sure to stop at Voodoo Donuts for some treats and Pittock Mansion for an incredible view of Portland and Mount Hood.
Bend, OR
In Portland we picked up the white Yaris (our quite compact rental car) and drove through the mountains to Bend, OR where we caught up with more Yooper friends – Chelsea, Austin, and Joppi. We had lunch at Deschutes Brewery where we experienced more random acts of kindness as the bartender gave us a free six pack of Deschutes Beer to take on our hike along the Deschutes River. No better impression on a Yooper than free beer eh?!
Redwoods
From Bend we drove to Crescent City through the Jedediah Smith Redwoods National Park. Our first glimpses of the Redwoods were in the dark but it was exciting to watch as our headlights lit up each giant tree. We woke up early in Crescent City and made our way through the Redwoods National Parks along Highway 101 to San Francisco in the Yaris. Many stops were made along the way including hiking at Enderts Beach, the Avenue of Giants, the Founders Tree, the Chandelier Tree, and finally making it to the John Muir Woods just at sunset. Contrary to all the small world experiences, this day showed the vastness of this planet. I have never felt as small as I did when looking up at the Founder's Tree.
"The clearest way into the Universe is through a forest wilderness." – John Muir
San Francisco
In San Francisco we stayed with my friend Pat – a fellow Michigander but of the troll variety. He showed us around the city taking us to Dolores Park and Lands End where we explored caves and saw the Golden Gate bridge along with many seals and dolphins swimming throughout the bay. We walked on the piers at Fisherman's Wharf and ate oysters and sourdough for dinner before going to check out Union Square.
Big Sur
Jessie, Pat, and I then continued down the coast along highway 1 racing around the curves to Big Sur. It was one of the most amazing places I think I have ever been; we spent the day climbing on rocks, watching whales, exploring McWay Waterfall and Julia Pfeiffer Burns State Park. We set up camp at Andrew Molera State Park where we found a great spot on the beach for the sunset and met some campers from San Francisco to hang around the campfire with. I definitely need to spend more time exploring this place!
Los Angeles
Jessie and I packed up the go-kart and continued along Highway 1 to LA where we concluded the trip staying with my sister, Carolyn. We spent a day in Santa Monica paddleboarding with sea lions and checking out the pier, went to an improv show at Upright Citizens Brigade, hiked behind the Hollywood sign, visited LACMA, walked along Hollywood Blvd., and saw the LA chandelier tree, which had over 30 chandeliers hanging on it!
And just like that we were back to the airport and heading back home, trading sunny California beaches for icy Lake Superior and the rainy green Pacific Northwest for the snowy tundra Upper Peninsula that I love. Throughout the trip we received many comments and questions about why we would choose to live here: "I hear it's way cold in Michigan" or "so when are you going to move out west?", but there isn't a great way to explain it so we encouraged them to come visit and see for themselves. It's so easy to get accustomed to our own way of living and ignore other places. I'm so thankful that Jessie and I took the time to go visit the west coast and experience new lifestyles, explore new hiking trails, and spread Yooper knowledge because we gained so much perspective while making great memories along the way.
As Jessie and I met up with other Yoopers along the coast, we came to realize and appreciate how the UP gives a sense of adventure and community. Each person we contacted along our journey were very welcoming to host us and ready for a hike. Thank you Kelly, Adam, Abby, Greg, Chelsea, Austin, Joppi, Pat, and Carolyn for being great hosts and tour guides!
Keep your eyes open, as there are many more 906 stickers to be found coast to coast. Use #906sticker and send us photo with your sightings, and be sure to slap one your bumper.
Liz Klarecki is a designer and developer at Elegant Seagulls (noticed the seagull photo?) and moonlights as an adventurer at Yooper Steez. You can see more of her work at her blog Seemingly Simple. You can follow her on Twitter at @eklare_.