2019 UPSCo. Year in Review
Another year is in the books at U.P. Supply Co. and 2019 was such an incredible year that it has taken us nearly a month to get our Year in Review published. For a team of three, we were able to accomplish a lot this year, many things we could not have dreamed UP in our own imaginations.
It was December 2007 when Bugsy first created Yooper Steez in the basement of his parent's house in Baraga. A dozen years have passed, and after a rebranding and opening our brick and mortar store, we're still eager to find unique ways to celebrate the Upper Peninsula of Michigan America.
---
Our Calculation to Resurface a 100% Frozen Lake Superior Goes Viral
Did you know that Lake Superior is the equivalent of 52,020,513 North American ice rinks? Neither did we. Not until the last couple years at least. The first time we roughly calculated this was in February 2014. Last February as Lake Superior pushed into eight and ninety percent frozen, we thought it would be a good idea to bring back this old content, which never existed on the blog.
We flushed out the match with more detail. We added some perspective of how often Lake Superior "freezes over". In the end, we determined (with coffee breaks, oil changes, and pickup hockey games aside), that it would take 693 years to resurface a 100% frozen Lake Superior using a single Zamboni machine.
Our updated Facebook post reached 250,000 people. It went far beyond that as it was picked up by the Detroit Free Press, City Pages, MLive, Jalopnik, and countless others.
All of the buzz inspired us to create the official Lake Superior Resurfacing Crew, in which we produced a commemorative hoodie and t-shirt. We'll be producing more as Lake Superior continues to freeze over this winter.
---
We Created the First Ever Upper Peninsula Silhouette Tee Tee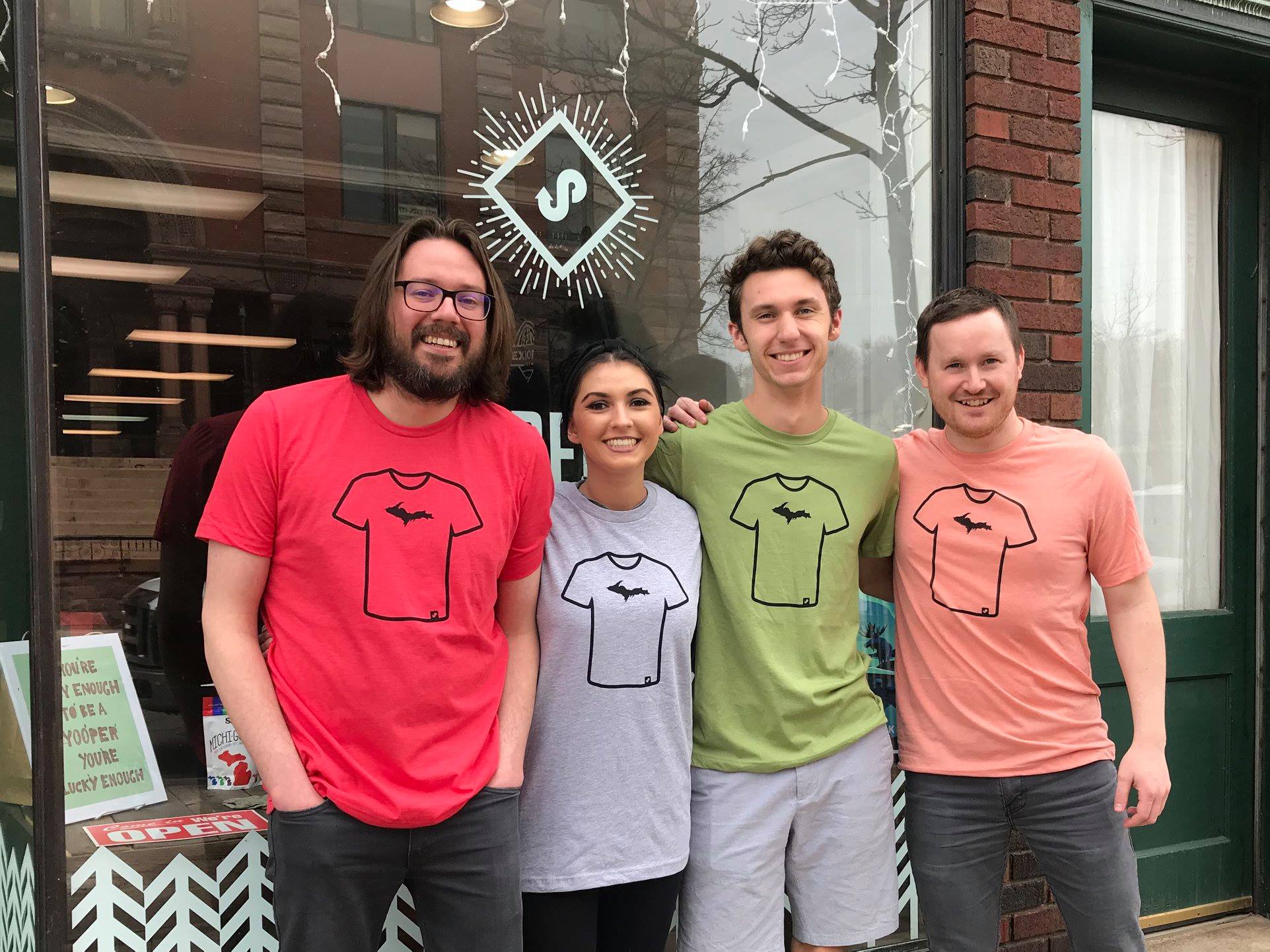 Back in 2007 in his parent's basement in Baraga, Bugsy created the first-ever Upper Peninsula silhouette tee. It was the shirt he wanted all along but could never find. Inspired by his 50-state road trip, the original idea was to create a silhouette tee of each state. However, he got sucked into his love for the Upper Peninsula and grew into the role of being an ambassador of the Upper Peninsula. The shirt was first launched in 2008 under the Yooper Steez brand. Today, twelve years later, it's a design you can find in nearly every gift shop across the Upper Peninsula, and the Upper Peninsula sihouette took on a new and expanded recognition.
For those of you who are new to our story, we're grown accustomed to launching a few April Fools' campaigns. In 2019 we decided to poke fun at the popularity of our original design to create a new originaly, The Upper Peninsula Silhouette Tee Tee.
At the UPSCo. shop we regularly see customers who are amused by the shirt on a shirt, with no reference to our backstory. We hope that we amuses us, amuses a few of you as well.
---
We Helped Launch an Exclusive Upper Peninsula Mountain Dew® Label
(More bottles and tees availble soon!)
Our summer was moving along smoothly, we were enjoying visiting with customers at the shop, enjoying the gorgeous weather, and loving the long hours of daylight. And then, we were notified that Mountain Dew associated the Upper Peninsula with Wiscsonin. The graphic was part of a nationally televised campaign, creating a unique Mountain Dew label for each of the 50 states. A Tweet went out calling out Mountain Dew and demanding a correction, one that included an exlusive Upper Peninsula Mountain Dew label.
After 3,000 retweets and nearly one million tweet impressions, we got a phone call from Pespi headquarters. Not only were they sincerely apologetic about the geographic error, but they were all-in to do something fun for our little corner of the world.
We were honored to have a role in designing the label and launching the bottle and an exclusive t-shirt from our shop. On that day, a line began to form out the door three hours in advance of the release and went half way around the entire block. In our time in Marquette, we had never seen an event like this. We had roughyl 400 people through the door in just under 45 minutes.
This was a unique moment in Upper Peninsula history that garnered press including nearly one hundred news stories online.
What we are especially grateful for is the crew from Mountain Dew that we communicated with constantly. Four representatives from Mountain Dew flew here and were an incredible delight to work with. They were gracious with their time and thoroughly enjoyed the brief tour of Marquette we gave them. In their short time in town they supported numerous local businsses and brought out a big crowd to the Upper Peninsula State Fair.
It's not the first time the Upper Peninsula has been left off the map or misrepresented, but we were incredibly lucky to work with a company excited to make things right and have a fun time doing so.
Our little business getting a write-up alongside Mountain Dew in Fast Company is an article we couldn't have dreamed UP. In addition to Fast Company the story was covered by countless others
---
The 8th Annual (906) Day was Bigger than Ever
What began in 2012 is a tradition on the brink of becoming a part of Upper Peninsula history. When we launched 906 Day, we were still so young in our company history. What began as our biggest sale of the year ($9.06 off every order), has grown into a day of pride for Yoopers in the Upper Peninsula and across the world. We don't want to get ahead of ourselves, but we're starting to get the feeling that September 6 is forever changed in the Upper Peninsula and Michigan.
In 2019 we had 18 businesses officially participate with events and promotions. This is small in comparrision to the countless social media posts that made the rounds this year. What has happened in the last two years has really caught us by surprise. We always hoped it would be a big day in the Upper Peninsula, but recently it seems to have crossed the bridge and become widely recognized across the state. The governor has tweeted about it, the Detroit Free Press, Bell's Brewery has hosted a special event, it was recognized by the Michigan State Police headquarters, and the list goes on.
What's next for 906 day? We'd love to hear your ideas.
---
Rasing Money for the Calumet Colosseum through Kraft Hockeyville USA®
Here at U.P. Supply Co. we have always covered lots of Upper Peninsula hockey content, you have Bugsy to thank (or hold a grudge with) for that. Can you believe it? Not one, but two Kraft Hockeyville USA® games in the Upper Peninsula in just four years? How fortunate we all were that Marquette hosted the game in 2016, now in 2019 Doc Emrick and NBC returned to broadcast another game. This time it was from the oldest continuously operating ice rink in North America (the world?). Not only did it feature the hometown favorite Detroit Red Wings, but also the regining Stanley Cup Champion St. Louis Blues.
We didn't hesitate for a second when given the opportunity to be the exclusive online vendor for official merchandise. With great pleasure we were able to help raise nearly $4,000 for the historic Calumet Colosseum. It's hard to imagine the excitement the kids must have felt to see their hockey heros come to their little hometown rink. From what we can tell, this was the smallest town to every host Kraft Hockeyville.
At the core of our business is finding unique ways to celebrate and create community within the Upper Peninsula and among Yooper expats. The Upper Peninsula is home to a significant stake of hockey history and we're happy to do what we can to keep that legacy alive for the next generation.
---
Plaidurday 2019 at Public White Peter Library, Our Biggest Yet!
Nine years of Plaidurday! It's hard to believe. 2019 marked our sixth annual Plaidurday photo in Marquette, asking the community to come out in full for an epic photo, everyone in their finest plaid. We hit a new record this year with 297 people!
However, over the last couple of years a rivalry has grown between Marquette and Ironwood. In 2018, Ironwood came out of nowhere and owned it, thanks to all those Stormy Kromer folks. So this year, we were ecstatic when we more than doubled our crowd from 2018, surely that would be enough to top Ironwood. Well, Ironwood rolled out the plaid carpet and brought over 400 people downtown decked out in plaid.
Let us just say that it is so on for 2020, the tenth annual Plaidurday. Mark your calendars for October 2. You can follow Plaidurday on Instagram, Twitter, and Facebook
See our Plaidurady celebration from each year.
---
Sponsoring the 4th Annual Fresh Coast Film Festival
For the fourth consecutive October we were excited to partner with the Fresh Coast Film Festival. Our role was small for an organization that brings in over 100 volunteers, and a core crew of fifteen people. This still new and ambitious event has ambtious goals of being a marquee event, not just for Marquette and the Upper Peninsula, but for the entire Midwest.
In 2019 FCFF brought in over 140 films with over 26 hours of film content across 31 film blocks and 8 walkable venues in downtown Marquette.
We're already gearing up to see what we can do grow the fest in 2020 for the fifth Fresh Coast Film Festival held October 15-18. See you in october!
---
Introducing the Plaidvent Calendar
Advent—plaidvent! It was a simple idea, 25 days of giving away plaid products! Each year we bring a new project or campaign into the mix, and it was a fitting addition to everything we've done with Plaidurday and painting a buffalo plaid wall in our shop. As soon as we looked we were dumbfounded that there were essentially zero results for "plaidvent calendar" on Google. How could nobody have thought of this before?! It was a scramble, but we got it live and will be looking to grow the campaign in 2019, one fun way for us to give back to our dedicated fans and customers.
---
Bugsy Photographs Every Sunrise of 2019
For the entire year of 2019 our logo featured a masked version of Bugsy's photo of the first sunrise of 2019 from Whitefish Point.
Shortly after, it was dubbed Year of the Sunrise. Bugsy set out to photograph every sunrise of 2019, regardless of rain, sleet, whiteouts, or -32º windchills. For those of you following us on social media, you probably saw many of these outtakes. About 90% of the project was based in Marquette and about 95% of the project is from shores of Lake Superior.
Bugsy's not done with the project. We've been letting him rest sleep in a bit, but soon enough he'll have a whole bunch of Year of the Sunrise prints and products at the shop.
---
There is an ever growing backlog of ideas and projects we want to launch and we'll bre working hard to cross a few off the list for 2020. We think you'll like what we have in store.
Of course, we'd love for you to follow along with our Upper Peninsula adventures on Twitter, Facebook, and Instagram. As you can see from above, we're much more a regional apparel brand, we're advocates of the Upper Peninsula, this community, and we're here to do all the fun things.
See you out there.