2012 Lake Superior Performance Rally Race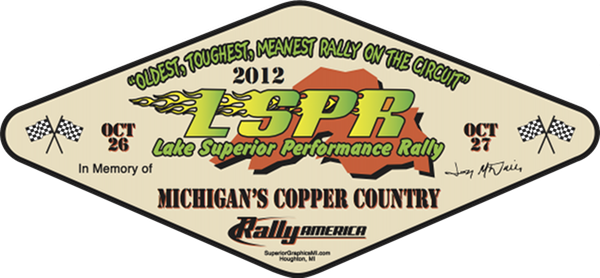 This is a guest post from our friend and fellow Yooper Ashley Bovin, she's from Gladstone and you can follow here on Twitter @ashleyruthless.
The 18th running of the Lake Superior Performance Rally (LSPR), the "Oldest, Toughest and Meanest Rally on the Rally Circuit," is happening this Friday and Saturday, October 26th and 27th, 2012. The LSPR is a sanctioned race by Rally America as one of many national and regional rally races. The 2011 LSPR Champions, Adam Yeoman and Jordan Schulze (#425) of Houghton, are going for a repeat in their home territory. It appears there are 35 entries in this year's rally, including a handful of teams from the Upper Peninsula.
Car #
Vehicle
Drive / Co-driver
Hometown
425
2007 Subaru WRX STI
Adam Yeoman
Jordan Schulze
Hancock
Hancock
377
2011 Subaru Impreza WRX STI
Mason Moyle
John A Hall
Houghton
Sherwood Park, AB
50
1995 VW Jetta
Allan Dantes
Matt Solka
L'Anse
Houghton
128
1987 Mazda RX-7
Mychal Summers
Ryan DesLaurier
L'Anse
L'Anse
540
1994 Rally DSM
Tim Smigowski
Christina Smigowski
Chassell
Chassell
810
1992 VW Jetta
Bradley Hayosh
Oliver Cooper
Brighton, MI
Hancock
Photos and videos like these show it's an experience charged with adrenaline and just how close you can get to the action.
Here's a little more info for anyone else who isn't familiar with rallying according to the extensive Wikipedia page on Rallying.
"[Rally racing] is distinguished by running not on a circuit, but instead in a point-to-point format in which participants and their co-drivers drive between set control points (special stages), leaving at regular intervals from one or more start points."
And according to the California Rally Series' website…
"'Stage rally' requirements for cars and trucks are a co-driver and fully prepared vehicle (rollcage, safety harnesses, etc.). Teams use a 'routebook' with mileages to follow the course and usually use turn-by-turn stage or pace notes as well. They range from simple 'coefficient 1' local events of less than 30 stage miles, to longer 'coefficient 2' rallies with 30 miles to under 65 miles, to 'coefficient 3' events with at least 65 miles of stage road. Larger rallies such as those in one of the national championships usually include 100-150 miles of stages over two days."
As for the LSPR, the first rally car leaves from Country Inn and Suites in Houghton at 2:15 p.m. Friday, following a Parc Expose (fans and spectators can see and meet the cars and drivers) at the Country Inn and Suites that begins at 1:00 p.m. The excitement will last through the late night until early morning as the cars return to Houghton after their backroads trek around Houghton County.
Saturday will begin with a Parc Expose in downtown L'Anse near the marina in the public parking area from 9:30am to 10:30am. The first rally car will leave the marina area at 10:30am.
The results will be announced at Dee Stadium in Houghton on Saturday, and we'll follow up with the results here!
Check out Fy Racing (Adam and Jordan), car #425, and Mason Moyles, car #377, on Facebook, and support them as a spectator if you can!
Spectator Maps (pdfs):
www.lsprorally.com/files/LSPR2012SpectatorFridayKenton.pdf

www.lsprorally.com/files/LSPR2012SpectatorSaturday.pdf

www.lsprorally.com/files/LSPR2012SpectatorStage1.pdf
More information on spectating:
www.lsprorally.com/spectating
More information on LSPR and rallying:
www.rally-america.com
www.lsprorally.com